Hello everyone! I'm back from hiatus and ready to get back to work. I think I'm going to need to take an annual vacation from the blog but September and October will just not work in the future. I feel bad knowing I like to post sewing/costume tutorials and I dropped the ball when people need time to prepare. So if this can't help you this year, then I hope it can help you next! With that out of the way, lets get to it shall we?
In preparation for this year's Halloween costumes I decided to present my son with some options. Unfortunately for me, he decided to be difficult. I suggested Beauty and the Beast and he told me "I Belle, you Beast", same went for basically everything else I suggested. He wanted to be the girl and I had to the the boy. No. I want the frilly dress. I suggested we both be the girl and both he and my husband didn't like that. Fine. New route. I suggested a ballet theme and it's what we're going with. I'm sooooo not changing this again now. I thought about being Clara initially but decided against it. Most people picture Clara and think nightgown. Boring. I want to be the Sugar Plum Fairy! Everyone loves her and she totally has the best costume. Plus, tiara. Do I really need to say more?
I first bought this leotard.
I bought it in the light pink color and I have to say it veers slightly peach. Not a deal breaker. But then I got to thinking, wouldn't something that looked like a real bodice look better? So then I (stupidly) went and bought this one.
It only came in white and black and obviously that'd never do. So I dyed it. I used these Dylon dye packets as they specifically stated it would work on synthetics.
I used an entire packet of Flamingo Pink and about a third of their Intense Violet and was left with the most stunning orchid color. The stitching didn't take but you can only tell if you're holding it to your face. If you wanted a deeper color I don't know if that could be achieved with these dyes and the white stitching might be more obvious, but I'm happy with the outcome.
There is still a problem though, I don't think this leotard/bodice is going to work out. The rhinestone appliqué doesn't fit that collar (it does fit the other leo) and it's sleeveless. This really wasn't very well thought out. It's okay though. I'll need something to wear at Disney World (where it's usually pretty hot, even if it's not you work up quite the sweat getting warmed up) if my friend and I do ballet photos. She loves taking pictures, I love ballet, we both love Disney and are totally princesses so I need to have some sort of outfit for our next joint trip. So I'm thinking I'm going to hold off embellishing that top and do it once I get closer to that trip. The long sleeved leotard is more practical for a cold climate, though there's still another problem, it's the wrong color. That's okay, I've learned $5 and an hour of my time can fix that. 🙂
I bought this collar from LaceNTrim on Etsy.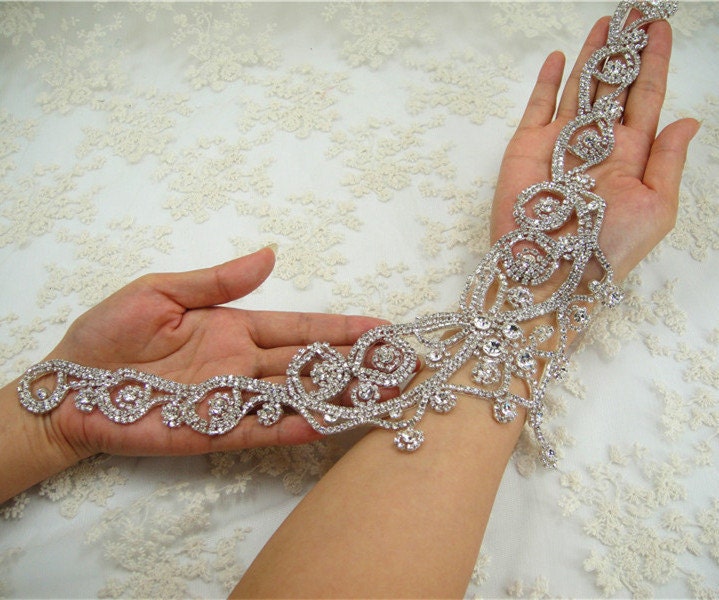 I plan to tack it down as best I can so that the neckline will still stretch, but so it'll lay flat. Sadly the quality isn't quite what I was hoping for, and really I'm not 100% sure what I thought I'd get. Basically this is a long strand of rhinestones on a piece of plastic vinyl that has an adhesive side. The spots where the flowers are in the center of the design? Yeah, just stuck down onto the glue. So I can't even peel it off and sew it down, there are just some elements I'd have to totally lose if I did that and it'll totally fall apart. I could try it, and would probably be successful. But the amount of work versus the payoff? I don't think it's worth it for a Halloween costume. I also bought some lace trim from the same seller and it's actually top notch. Not the best quality I've ever seen. But for what I paid for it it's much better than I thought it'd be. Equally as good as anything Joann's is selling or even better, but for less. It also came super crazy fast. Like less than two weeks! So do plan ahead just incase if you're going to use a Chinese seller, but know this seller doesn't just sit on orders!
Next up is the skirt. I was going to use a pancake tutu but that proved impossible to obtain. Discount Dance sent it out with insufficient shipping and I had to go to the post office and wait in line for 20 minutes then pay the difference. They eventually credited me for that, but they still sent me the wrong size. Then they shipped me out the right size, but it looked like it had been trampled by a herd of wildebeest. No amount of steaming was going to fix that. I thought about trying to buy another, but decided the shape and size was probably just too impractical overall and I didn't want to deal with Discount Dance anymore so I scrapped that. I actually wrote a pretty bad review for this particular tutu and Discount Dance apparently decided not to publish it. I guess they don't want anyone knowing they know there's an issue with the way they're shipping this tutu because it's happened to other people (according to the guy on the phone) and they've done nothing to fix the issue. Oh well, I'm telling you all anyways. Don't buy the Natalie pancake tutu from Discount Dance. The carry bag will be filthy ripped to shreds and probably missing one or more of the handles, it'll be crushed, the hoop might be bent, and you'll have to go pay out of pocket to pick it up from the post office. And even though they know there's an issue with the way they're shipping this tutu, they'll require proof you had to pay. So don't get rid of the door tag or receipt!
I bought what turned out to be way too much tulle (I was going to embellish the tutu which only came in white) but now I'm going to do a romantic tutu. I know it's not traditional, but it's not a "real" costume so who cares? I only hope I'll have enough to do what's in my head. I'm going to need to measure and see if it'll be long enough (I bought 108″ wide tulle) or if I'll need to piece it together. I'm going to do my usual circle skirt thing because again, this isn't a real tutu and it's easy. I am going to line it as well because I don't want to be walking around in a sheer skirt. I got lucky and was able to find some of the foiled tulle (that's what it's called, but I don't think it's especially descriptive) that I used in my other, shorter, circle skirts and I think it'll look really nice as an overlay. The only thing left to consider is embellishment.
I have the lace from my Etsy order (note: I only got the lace on the left, and the light pink on the far right bottom).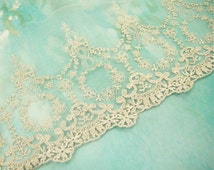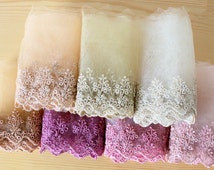 I'd planned to use it on the platter tutu because well, it works on such a tutu. On a romantic one, I don't know? I've been thinking about sewing it onto the hem, but I'm afraid it'll look awkward. I've also considered sewing it to the top of the skirt by the waistband, but I'm not sure how that'll work either. I am lining this skirt, and sewing it onto the lining is a possibility, but I think with the fullness it just hanging underneath it might look sad. I might also want to place it onto the leotard, or add a ruffle to the (slightly too short) sleeves. I like the idea of adding sequins or beads, it's easy and you can do as little or as much as you'd like. I'm still fleshing it all out. We'll see what ultimately happens.
All in all this is a pretty simple costume to construct. If you've read my post about the circle skirts here then you know how to put this skirt together. The only difference is that I'll be using several pieces rather than just one layer of tulle. The process is the same though and I've done multiple layers before, I just hand baste them all one by one before sewing them down. It's really the secret to making the construction of a tulle skirt as painless as possible. Otherwise it shifts out of place, tulle stretches, bunches, and I could go on and on… Trust me, just hand baste unless you want to hate your life.
Lastly is the topic of shoes. I have two options. Wear dead pointe shoes, which isn't that big of an issue. I'll have killed another pair between now and the end of next month (probably two pairs, ugh) and I'm a sadist who finds them comfortable. If I'm going to be inside it's no issue at all either. My other option is these.
I own them in both this color, and black. They are both thrilling and comfortable. I actually saw a woman trying them on the other day and told her how much I love mine and that she had to buy them. The only thing is, I always used to feel like something of a fraud wearing these. Like, they look like pointe shoes but they're obviously for pretend and I do dance, but I wasn't en pointe until this summer. So, well… It's was just weird. But now I feel like I can wear them. Granted it's getting cold out now so I don't want to…
So these are my options. I can wear "real" pointe shoes that'll still look pretty darn good and brand new with it's shiny unmarred satin, or I can wear regular shoes and feel a bit more secure. I guess we'll see what we're doing and decide from there what I want to do. Maybe both?
I do still need to sort out a headpiece. I have one, very, very nice tiara. But it cost hundreds of dollars and I'm not sure I want to wear it for play. So I've been considering this one from Amazon.
I am mildly concerned about quality, it gets good reviews but a lot of Amazon reviews have been paid recently. It is less than $30 though, and it only really needs to last one night. If it goes past that I'd see it as a real bonus and will totally use it on that Disney trip I mentioned above. And if I'm being honest, I'll probably keep wearing it to Disney (and at home) because I'm secretly only five. Amazon does have a lot to pick from, and they're selling for very little. I feel like I need to make my decision by the beginning of October, just incase it needs extra time to ship.
Next up will be my son's costume. I asked him if he wanted to be the Nutcracker himself, or the Rat King. He proclaimed the Rat King "naughty naughty" and was unwilling to go along with it. The Nutcracker however peaked his interest (probably because next to Clara he's the fancy one, lol). We went to Joann's and he picked the trim himself (trim that includes, but is not limited to, red sequins). He's also announced he wants a tutu of his own so I may whip up a tiny black one for him. The materials alone would probably run me around $4. He's so tiny a yard of $2 tulle will do. And I may just do the no sew method. He's a kid, and kids want the poof. This will keep it nice and short (so it doesn't snag on anything) and he'll be happy. Plus it'll take me like 15 minutes, win win.
That means my husband will have to be the Rat King. I think this one will be somewhat tricky as I've never done this before. But I'm going to pick up a simple grey hooded sweatshirt from Target and add ears and a crown to the hood. He doesn't really like dressing up and allowing him to wear either sweatpants or jeans with a t shirt and a hoodie is like his dream come true.
The only thing that will come as a crushing blow to either of them will be the lack of swords though. There's just no way. Someone's going to lose an eye. Yes, I'm that mother.
So those two costumes will be coming up over the next couple of weeks. I hope to finish off the month with a complete reveal of what my costume looks like. I wish it could be included in this post but I suspect I'll still be working on it right up until the last minute. I'm writing this in advance and honestly, I haven't picked up a sewing needle at all. My craft room furniture has finally been assembled and I have a number of projects that need to happen urgently. Nothing is put away and the place looks like a disaster area. I'm going away again next week (end of September) so it's just crazy for me right now. I never know if I'm coming or going anymore. Hopefully I can get something done on it before I leave next week, I'll probably start work on the skirt tomorrow. Or at least unbury my poor serger and start laying out all the supplies I'll need for this in a box so I don't have to fish for stuff while I'm working and I can put off organizing until I really have the time for it. I also need to get out and get more dye or see if I can get it on Amazon. Because as soon as I dye that leo, I can start embellishing it!